INTRODUCTION
Peter Hackmair sits before me at complete ease with himself. The man is a complete world away from the boy dealing with the pressure of being a professional footballer and with his whole career planned out before him. At the age of only 25, he found the courage to turn his back on the pathway that had been laid out for him to pursue his real dreams in life.
He spent the majority of his career at SV Ried (an Austrian Major League team) and was a regular in the Austrian national team at every age group growing up, his crowning glory coming in the semi-final appearance of the u20 team at the World Cup in Canada. A series of serious injuries meant a lot of time on the sidelines for Peter, however, giving him the time to really reflect on his life. After deciding that he didn't like what he saw, he turned his back on the lucrative world of football to do what he wanted in life.
Having travelled round the world for 15 months, he has made lots of breakthroughs in his life in the last two years. He now lives in Vienna as the successful author of two books and an online blog about freedom and chasing your dreams. The method of selling his second book is also challenging traditional capitalistic views and inspiring more trust between people. He has even found his way back to football but in two roles that allow him to truly be who he is.
It is fair to say that he has made a complete U-turn in life. At once trapped in the small-minded world of professional football, he has now broadened his horizons and considers himself truly happy. Through his writing and his experiences in life, he hopes to inspire in others the courage that helped him change his life.
INTERVIEW

Who are you, what's been your story in life until this point?
I'm Peter Alexander, 28. I grew up in probably the nicest place in the world – Salzkammergut (after 15 months of world travel I'm allowed to say that now). I used to be obsessed with football and started at the tender age of 5. At 6 I was playing in a team and it was obvious that it was my dream to turn professional. At the start it was all very fun but when the county teams were selected at the ages of 10 and 11 it was clear to me that I wanted to be the best. Even then I was very ambitious. Then at 11 and 12 I was told that SV Ried were interested in signing me which influenced and directed me in life and I spent 20 years in football.
What inspired you to become a footballer? Was it a relatively normal dream like with most boys?
Football was my main hobby but I played and trained tennis quite intensively as well. It was quite an important moment when I decided to focus on football and not tennis. With football and SV Ried I quickly had to leave home and in retrospect the fact that I was searching for a football family was clearly important for my ambition. My parents were divorced, my dad left home when I was four and I was clearly looking for attention in football. I think that was a deciding factor as to why I was able to make it in football at all, as only through this was I able to stay consistent enough.
How did this need for attention influence you in later life?
I suppose in as much as my ego was always being tested. I turned professional at 17 or 18 and was very sensitive at that age. Suddenly you find yourself in the newspaper, on TV and you get more and more pats on the back. I guess I was a product of my environment; everything was focussed on football. That influenced me and I became very egotistical. I managed to notice this in my last two or three years as a professional and worked on it. I now realise it's a part of me to be in the centre of things and in public but I now enjoy letting my ego go a little bit and being part of something bigger than myself.
"TO TELL YOU THE TRUTH, I WAS SHITTING MYSELF FOR THE FIRST FIVE MINUTES."
You played your first Bundesliga match at 18, what was that like?
To tell you the truth, I was shitting myself for the first five minutes. I was so nervous and tense but it was something that I had been working towards for years. After 5 minutes I simply enjoyed it and it was a huge weight of my shoulders. I clearly remember that feeling of 'Yes, you can do this'. I had shown it for years in training that I was one of the best young talents in Austria but I wanted to see it in a match. Until that point there had been a huge question mark in my head as to whether I really could be a Bundesliga player. Ten minutes into the game were enough for me to know that I could be. I'd won my first tackle, played my first pass, done my first trick. Then I could start to relax and enjoy the feeling of having the world, quite literally, at my feet.
How did the call-ups to the junior national teams influence you?
Hugely. I was able to see at the age of 15 that I could run with the best of them. At the u17 World Cup I played against Fabregas, Pique and lots more that are now world class. That gave me the confidence in myself to know I could become a professional in Austria but I always dreamt of making the leap to a big team in a foreign league.
Why didn't you move to a foreign club right away? Did the situation in Austrian football at the time have anything to do with your decision?
Yeah that was certainly a factor. I felt that it probably wasn't such a bad idea to establish myself in Austria for two or three years first, before making a move to a foreign club. The problem was that after only two years my first real injury came, just before the 2008 European Championships in Austria, for which I was in the initial squad. I don't want to say I had to start again because of this but it put me back a long way. Then came the six-month therapy where you're reduced to fighting by yourself, which is actually very interesting, but where you lose a lot of ground in a sporting sense. I made my comeback and everything went well for 6 months but then I got injured again. My sporting development then just wasn't what it had seemed three years previously because my body wasn't able to cope. Because of this the transfer to a foreign club never really came off.
Do you now think that it was destiny?
Yes. One of my mottos in life is that everything in life has its purpose. I didn't really understand that back then, it was only with my third major injury that I started to entertain thoughts of quitting and it woke something up in me. I'm now 28, freer than ever and have more responsibility for my life and for my surroundings than ever before. For that I'm hugely thankful. Now when I look at my knee with all its scars from the various ligament tears, I'm actually thankful. Firstly for the fact that I'm generally fit enough to do most sports and secondly for everything that I was able to experience. Maybe I would have quit even without the injuries but I doubt I would have had the courage to give up something that had been my dream for so long.
And then came your third major injury. Can you tell us how it felt to lay in hospital and for the first time really think about gathering up the courage to quit football?
The injury didn't look that bad at the beginning, it seemed like I had just irritated my meniscus, but then I had it checked out and the doctor said that my cruciate ligament was far too loose and that he wouldn't send me back out into professional sports with it as it was. I had ripped part of my cartilage and they had to take it out. Even before I knew that I needed another operation I was thinking about quitting. I thought about it overnight and had lots of thoughts of, 'You can't quit at 25, you've worked so hard for this', but when I heard that I was facing another operation and 6 months therapy, I felt as though it was time to call time on my career. I decided to give myself those 6 months to really test how I was feeling and did the therapy as though I was still going to come back but after 3 months I kind of knew that that world wasn't for me anymore.
"I'M TERRIBLY LOGICAL AND HAD THOUGHT THROUGH AND PLANNED MY ENTIRE LIFE BUT IN THAT MOMENT WITH MY INJURY, I SIMPLY FELT THAT IT WASN'T MY WORLD ANYMORE."
What was going through your mind? Was it more than just an injury?
I think I managed to listen to my gut feeling for the first time in my life. I'm terribly logical and had thought through and planned my entire life but in that moment with my injury, I simply felt that it wasn't my world anymore. I can't really explain what it was; I just knew how the therapy was going to go and which world waited for me when I made my comeback and that didn't feel right for me. I knew that I didn't want to go back to the same colleagues and the same conversations and that I wanted more from life. I had found myself in a sort of tunnel – which was good as in professional football you need that focus – but I felt that there was more to life that I was missing. I didn't know exactly what I was missing but I felt that if I made room for it, it would certainly come. Of course I had my doubts and I thought for a long time whether it wasn't careless just to throw away the career I had worked so hard for but somehow I knew that it would work out for me.
Was it also partly being afraid of losing your status?
I think that might have been my biggest fear of them all. At the time I defined myself by my possessions: I drove a nice car, went shopping every week and concentrated a lot on how I looked and I knew that that would completely stop overnight because I wouldn't be able to earn the money that I had been earning.
What made you want to go on a world trip?
I had seen a few people in the years previous who had simply given up and lost their drive in life and I wanted to avoid that at any cost. It was for this reason that I wrote my first book and went on a world trip with my wife so quickly after quitting football. It was her decision really, as it's completely her thing to travel. I've always enjoyed travelling but never to the extent that I wanted to take off without a return trip! With writing it was something else; I quickly realised that I had discovered a new talent and a new passion in myself but travelling wasn't really my thing at the start. I had planned to simply go along for a bit and try it and it wasn't until during the trip that I got so obsessed with it!
First stop: India…
After three days there I thought, 'That's it, I'm going home!' but the stop was planned for us to visit our adopted godson at the social project where he goes to school and so it was very important. I think it was good for me to start there as I had something to do straight away; meeting the kids, sharing my experience and being a teacher all bridged the gap between being on career plan 24 hours a day to suddenly being on a world trip. We stayed in the school for two weeks and then travelled around the Andaman Islands, which are as close to paradise as you'll find. The best thing about our time there was that I was living in the moment – something I had never done before.
How did that affect you as a person?
It completely changed me. I always try to remember two things from the trip: Number one, be open. I had always felt ok being the centre of attention but only among my own friends, I could never openly go up to other people. Since I've been doing this, I have noticed just how many positive reactions I get from other people. Number two, be thankful. This is definitely the most important thing I learnt. When you've lived in India and Colombia you learn to be so thankful for the most basic things in Austria; we get clean water from the tap, we always have something to eat and we can survive even when we have no work. I've definitely become more tolerant as well, it's like I've suddenly noticed other religions, cultures and points of view.
You then started your blog about being free. What does freedom mean to you?
I think that after being healthy it means everything. I've been thinking about this for a while now and I think it's so important to me as it is the basis for my whole life. Everything that is happening to me at the moment, be it cool new jobs or cool new people, is happening because I'm not tied down to one place or one job. I can stop doing everything at any time and can decide what I want to do nearly every day. So I guess freedom means being able to decide things for yourself. A reader of my blog once wrote me, 'Decide yourself to define yourself', which I think sums it up brilliantly.
Was it also an aim of your second book to give that freedom to other people?
Two things: freedom and courage. They are the two things I would like people to most take away from my writing. Maybe even 'courage to be free' if you want to connect the two. It takes a lot of courage to quit a job and go on a world trip where you're not going to be earning anything. For this reason it's such a nice thing to receive when people write me hand-written letters or emails to say that they've been inspired by me and are now considering giving up their job to travel the world for a while. It's great to think that other people are recognising this freedom in their lives too. I think that's the best thing I could ever have left behind in the world.
Towards the end of last year you had a major breakthrough in life in that you brought out your second book. How did that happen and how has it been since then?
It completely turned my life on its head. After the world trip, my small town of Ried im Innkreis quickly became too small for me so I moved to Vienna with my ex-wife. It has opened some interesting paths for me and now when I look out over the horizon, there's a lively, two-million-person city there before me. Both the city and the social network that I now find myself in have inspired me hugely and have meant that I'm now an ORF expert on Austrian football on TV, that I've had some wonderful success with the book and that I'm part of Teco 7, a greatly promising football academy that wants to revolutionise football coaching. That all this has happened in one year is simply unbelievable. It has taught me that you shouldn't live by the boundaries you create in your head, as anything is possible.
You started an experiment with your book, how is that going?
Yes with the second book I'm running an experiment where people can decide themselves what they think the book is worth and otherwise don't pay a cent. The reason for this is that when I was on my world trip so many people helped us out without wanting anything in return which really inspired me. In this time I also got to know Hermann Gams and Harald Katzenschläger who help people make their dreams reality without handing out an invoice afterwards. Another thing was that I wanted to make the book accessible for as many people as possible and this meant doing it in this way, as I saw on the world trip just how much €20 or €25 is for someone in India or Colombia. I didn't want to limit anyone from reading it through the price.
How has it all gone?
Some people can't deal with it and almost need a concrete price from me before they take the book and some people think it's the coolest thing in the world and love how much trust is given to the reader. Some people are even already transferring the policy to their lives! Somebody wrote to me the other day and said that they're opening a restaurant and would like to use the same policy for the first month there, which I think is fantastic. Of course, some people haven't yet paid but some have given €100 for it. It's nice to know that they appreciate the path I've chosen for the book.
You were also recently in New York with Christian Fuchs to expand the football academy Teco 7. How did that come about and why exactly New York?
In winter I was talking with one of my mentors about rolling Teco 7 out across the world and New York came up as my dream destination to start. I also knew that if we could make it there, we could use Teco 7 anywhere in the world. A month later I saw Christian Fuchs giving an interview where he was talking about his planned football camp in New York. I got in touch and he was very enthusiastic. After a few weeks of back and forth, it was clear that we were going to do it together. He was extremely motivated but lacked a bit of know-how, as he's not a coach and had never organised a camp before so it was the perfect union. That was a great moment as I found out that you only have to show a bit of courage and tell people about your dreams and they can come true in a flash. Now when I have doubts about anything in life, I think back to New York and how anything is possible if you go at it with passion.
"SUDDENLY UNDER THOSE SORTS OF CONDITIONS YOU BEGIN TO DOUBT AND QUESTION EVERYTHING."
That sounds extremely positive. Are there any phases in life where nothing seems to work? What happens to you then?
Yes of course. I had probably the worst phase of my life only this year; it seemed like in winter everything came together to make me extremely depressed for two months. I had just separated from my wife, I was living in a small apartment where I wasn't happy and it was getting dark every day at 4pm. Suddenly under those sorts of conditions you begin to doubt and question everything. I wasn't selling many books at the time either, although the launch was quickly approaching, which made me question my work and the experiment with 'You pay what you want'.
It was no huge step to make myself happy again, I just made sure that I was meeting up with people who were important to me and slowly but surely I made it out. Now I see how great it feels to come out of a phase like that and be happy again. I grew up a lot in that time and worked through a lot of feelings with regards to the separation. Generally I realised that I could be happy in life with who I am. I learnt from a book that a lot of relationships, regardless whether it is family, friends or partners, are simply there for you to get to know yourself, as they show you a facet of yourself that you might not have considered.
New York happened as it did then, what do you put it all down to?
I put it down to the fact that I'm no longer dependent on anything in life and that I've managed to preserve the freedom that I had on the world trip. I think this gives me an easy-going character which also makes me very strong. I really do think that freedom is the basis for my whole good fortune in life. I can choose when to really throw myself into something and when to hold back and say no.
What values do you think are important in your life?
I generally just try to be a good person. I used to be in a world where only status, money and appearances are important but then I saw on the world trip what it's like to be outside of the paradise that is Austria. It's crazy to think that we live in the top 1% of the world, not in terms of money but in terms of being able to survive and being able to do things like follow our dreams. So many people don't have this opportunity. I don't think I can change the world on my own but I do think I can be part of a community that affects a bigger change. Part of this is values like being honest to myself, being true to myself and simply being myself. I have grown up to realise that I don't need to change the world all by myself, I just have to be me. If I offend anyone doing this then it's ok, I'll say what I think and move on with my life. I like not having to pretend to be someone I'm not.
What are the next things on your list of dreams?
I really think that the Teco 7 vision is something that will change football training. We already work very professionally with the kids and it is very important for us that the people are the focus of the training. I want to teach kids values through training so that one day they might be able to live in the dog-eat-dog world of football and be comfortable in their own skin. Lots of footballers have to put on a mask to survive with the enormous pressure of professional sport. I don't think we're going to turn professional football on its head anytime soon but I think that if we can transmit these positive values to our small team and develop a community spirit, the whole world will see that Teco 7 players stick together and the coaches do what makes them happy. To put it more simply, the people and not the system are the centre of things.
You've said in a lot of interviews that you think footballers earn far too much money. How would you change the system if you could?
I think there's only one solution and that's a salary cap that's regulated by the sporting body, like Major League Soccer in the USA. I would do that in a heartbeat but it's not really a long-term solution as it can be easily ignored; you would have to really change the values and responsibilities in football in order to change anything. For this you have to start with kids' football as there you can actually change the future. If they grow up in a positive system then they won't define themselves later by how much money they earn. That's what we're trying to do at Teco 7 and I hope that one day the whole world will come to think like it too. I think it's possible that in ten years we can have a professional team where everyone earns the same thing, from the players to the manager to the kit man. Every cog in the wheel is equally as appreciated for the job they do.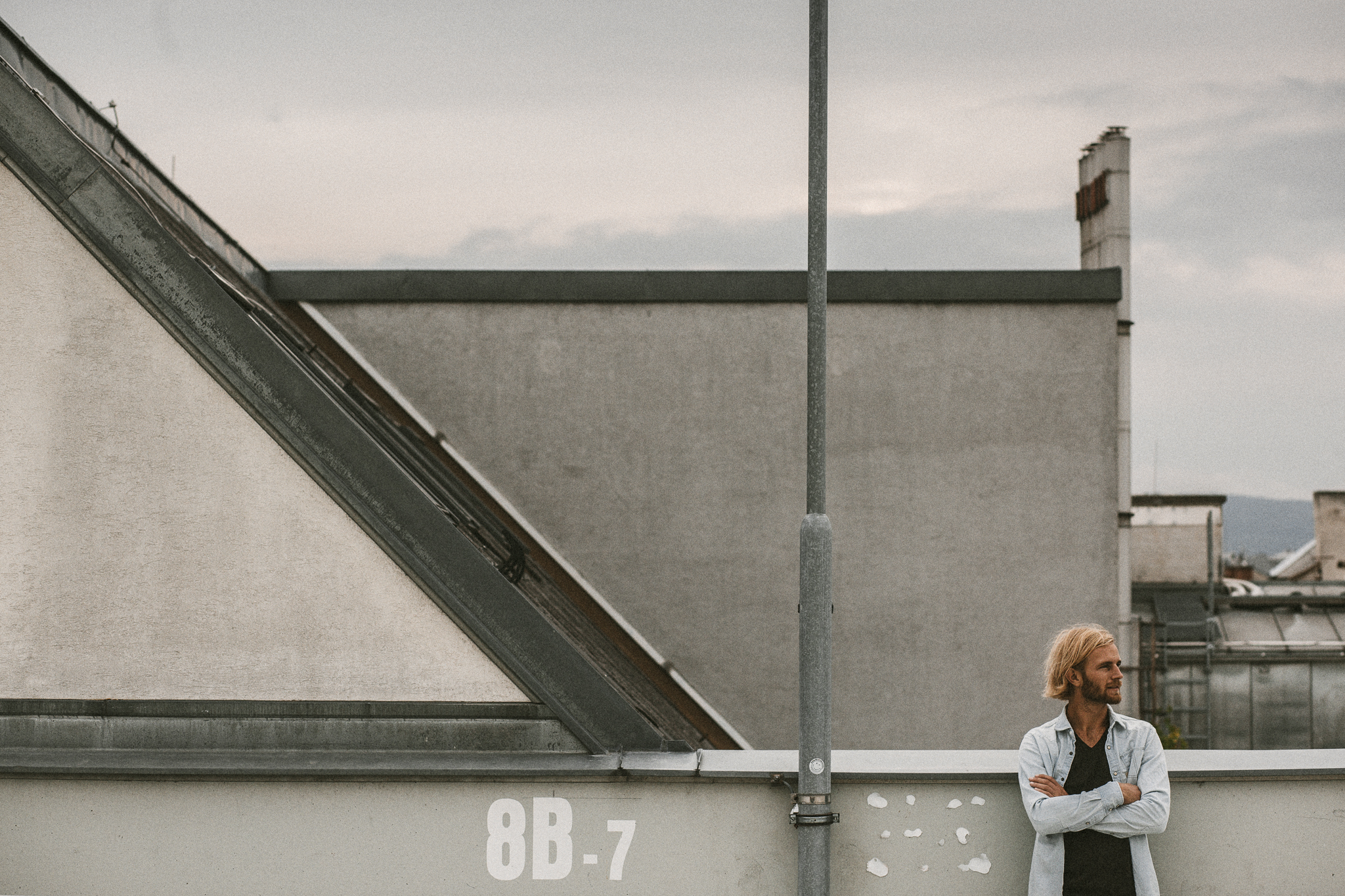 Do you have any wishes?
I wish that the freedom I have discovered and enjoy stays with me, even when I'm grown up and have a family. I definitely want to have kids but hear more and more from parents that it extremely limits the freedom you have in life. I wish that I can keep up this feeling and make my family a part of it.
ADDITIONAL INFORMATION

Peter considers Talent Code by Daniel Coyle the most important book in his life.
Portrait Photography: Jure Vukadin